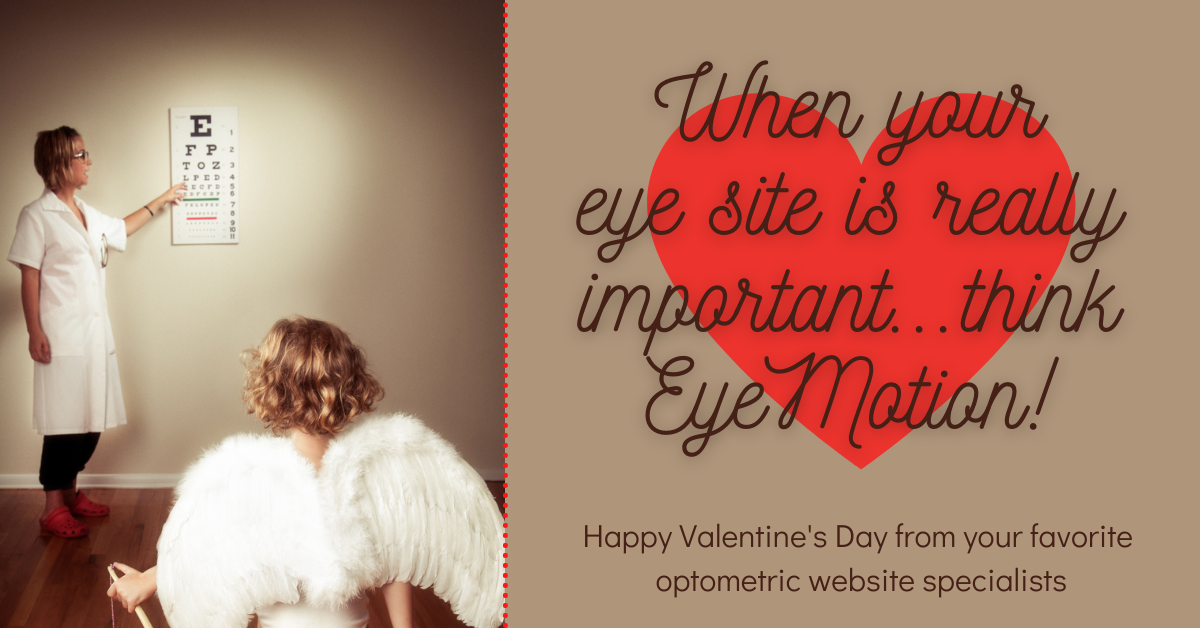 We figured Valentine's Day was as good as any day to express our love and appreciation for all of our wonderful clients! There really is something unique and special about the eyecare community and the wonderful, caring people who are drawn to it. We are glad to be a part of what you do, and we hope to be able to continue providing you with great optometric websites and the best service in the industry for many years to come.
Speaking of years...did you know that EyeMotion has been a provider of eye animations, optical websites, hosting, and more for over 15 years? And our employee retention is superb—our employees have been working for us for 10+ years on average. As Richard Branson of Virgin Atlantic has said, "The way you treat your employees is the way they will treat your customers." We believe that happy, long-term employees make for satisfied, long-term clients and the results speak for themselves…so many of our clients have been with us for 5, 8, 10 years and more!
Here are a couple statements from clients talking about us--
"From our initial inquiries to the completion of our website, everyone was professional and easy to work with. The care with which we were treated and the service that we received was exceptional. EyeMotion went above and beyond anything we expected. We would (and do) highly recommend their services to anyone looking for a website." Paul Thomey, Central Coast Optometric,
www.centralcoastoptometric.com
"Extraordinary customer service, excellent communication! Our site was just the way we wanted it before we went live. This was our second site designed by EyeMotion, as we moved a portion of our practice into its own corporation. The new site is just as beautiful as the first." Julie Brown, Vision Development Center,
www.visiondevelopmentcenterco.com/
Thank you to these clients and to so many more whose lovely words and appreciation mean so much to us. You keep us coming back into work on Mondays, enjoying our jobs and the opportunity to work with you and for you.
WE LOVE YOU!